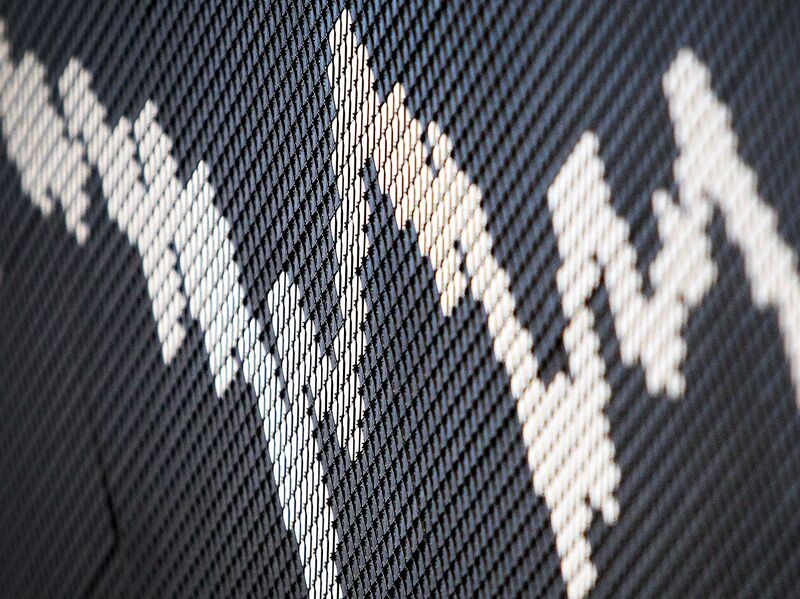 By
June 15, 2022, 12:26 AM CDT
Share this article
Good morning. Markets on tenterhooks ahead of Fed meeting, Bitcoin's darkest phase, the consequences of sanctions and Europe's gas woes. Here's what people are talking about.
All About the Fed
All eyes are on the Federal Reserve with a meeting that's expected to deliver a hefty interest-rate increase as it's now become clear that the world's central banks got their calls wrong. The Fed is now expected to hike interest rates by 75 basis points Wednesday, just weeks after Chair Jerome Powell and his team repeatedly advertised a half percentage point move. Particularly among managers who premise strategies on quantitative signals, exposure to stocks and other risky assets has been cut to the bone and hedge funds have been similarly expeditious. Global bonds look like following stocks into a bear market.
Underwater
The bear market for Bitcoin has entered its "deepest and darkest" phase, with even long-term holders who had toughed it out until now coming under extreme pressure. That's according to strategists at Glassnode, which tracks an indicator known as realized price, the average purchase price of all Bitcoins in circulation. The cryptocurrency is currently trading roughly $1,000 below the coin's current realized price of $23,430. Many newer entrants are now underwater. That's emboldening naysayers: billionaire Bill Gates dismissed cryptocurrency projects such as nonfungible tokens as shams "based on the greater-fool theory.''
Blowback
Some Biden administration officials are privately expressing concern that the slew of sanctions meant to punish Vladimir Putin's government and pressure him to pull his forces back from Ukraine are exacerbating inflation, worsening food insecurity and punishing ordinary Russians more than Putin or his allies. Officials were initially impressed by the willingness of companies to abruptly "self-sanction." But the administration was caught off-guard by the potential knock-on effects — from supply chain bottlenecks to uninsurable grain exports.
Gas Woes
Matt Levine's Money Stuff is what's missing from your inbox.
We know you're busy. Let Bloomberg Opinion's Matt Levine unpack all the Wall Street drama for you.EmailSign UpBloomberg may send me offers and promotions.
By submitting my information, I agree to the Privacy Policy and Terms of Service.
The extended shutdown of a key US natural gas export complex will strain European efforts to amass emergency stockpiles before the Northern Hemisphere winter arrives. Freeport LNG's surprise announcement that its Texas liquefied gas facility will be closed four times longer than previously thought rocked domestic and overseas energy markets Tuesday. The disruption comes at a time when gas-starved Europe is increasingly dependent on American suppliers to replenish inventories while seeking to shun Russian supplies in response to the invasion of Ukraine. European gas futures surged the most since March.
Coming Up…
European futures gained with US contracts, while Asian markets were subdued ahead of the Fed meeting and Chair Jerome Powell's news conference. Elsewhere, Russia's Gazprom and Clariant are among big earnings. H&M, Vinci and WH Smith have sales updates. On the data front, France consumer price inflation, Norway trade balance and Ireland property prices. European Central Bank President Christine Lagarde participates in a discussion hosted by the London School of Economics.
What We've Been Reading
This is what's caught our eye over the past 24 hours.
And finally, here's what Cormac is interested in this morning
Break a central bank and you get inducted straight away into the Hedge Fund Hall of Fame, just ask George Soros. That's what BlueBay Asset Management is doing as it shorts Japanese government bonds, betting the Bank of Japan will be forced to abandon its super-easy monetary policy that's increasingly isolated from global peers. It's not the only one. Signals from Japan's bond and option market show wagers on a tweak to the BOJ's curve-control policy are mounting, as it undertakes historic levels of asset purchases to cap benchmark yields at 0.25%. The central bank is faced with a growing headache in its strategy to help a stuttering economy as the rest of the world moves on to hiking interest rates. Ten-year yen swap rates — a market popular with international funds — have surged, breaking their close relationship with domestically driven yields. At over 0.50%, the former have pushed well past the central bank's "line in the sand'' for benchmark bonds, suggesting foreign traders believe higher yields and a policy change in Japan are inevitable.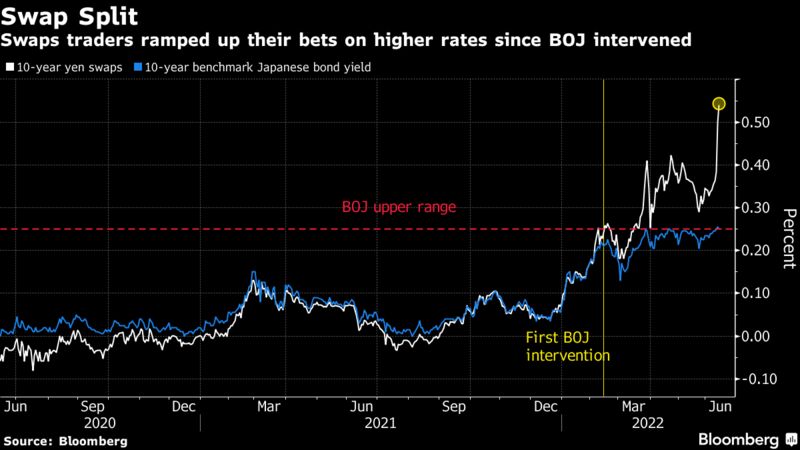 Cormac Mullen is a Deputy Managing Editor in the Markets team for Bloomberg News in Tokyo.